Request Appointment
Cape Small Animal Clinic
Cape Small Animal Clinic is dedicated to providing our community with expert and friendly veterinary care.
Request Appointment
About Us
Since 1971, Cape Small Animal Clinic has proudly and humbly served families in Cape Girardeau and surrounding areas.
Meet Our Team
Make an Appointment
Contact us today to make an appointment! Not sure what services your pet is due for? Call us to discuss.
(573) 334-5073
Have an Emergency?
Cape Small Animal Clinic offers emergency care after-hours Monday - Friday to our clients only.
More Information
Complete Wellness Care
in Cape Girardeau, MO
Digital X-Ray Imaging
Dental Services
Ultrasound
Orthopedic Surgery
Diagnostics
Surgical Services
Explore all that Cape Small Animal Clinic has to offer. Drs. Brian Heuring, Loni Patke, Alexandra Chaney and Jeff Lawrence are here to help your dog or cat live happy, healthy lives with our expert care.
View Our Veterinary Services
WHAT TO EXPECT AT CAPE SMALL ANIMAL CLINIC IN CAPE GIRARDEAU, MISSOURI
At Cape Small Animal Clinic, everyone leaves happier than when they came in. We have four of the most experienced, compassionate veterinarians in the Sikeston and Cape Girardeau areas, backed by a staff who love what they do.
Meet Our Team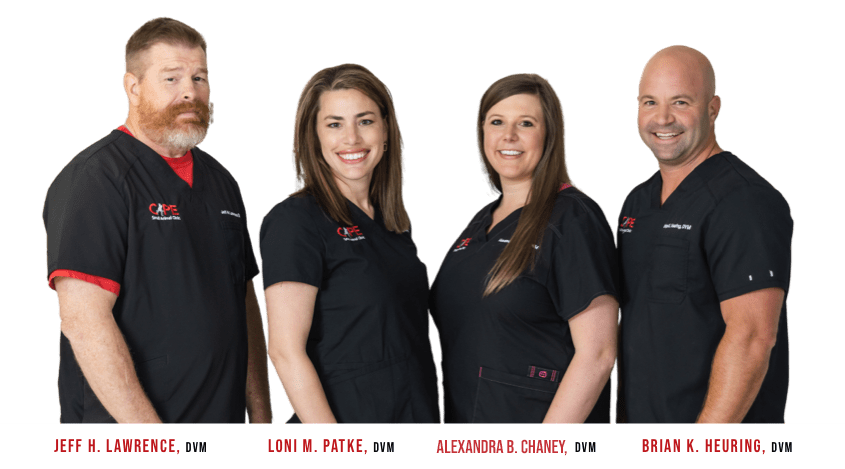 Very attentive! They, not just one of the vets, but all of them sincerely care about the animals they see & it shows. I drive from Illinois just to bring my baby here!

Highly Rated on Google Reviews!

400+ Reviews
CAPE SMALL ANIMAL CLINIC
Address:
210 Christine St.
Cape Girardeau, MO 63703
Business Hours:
Monday - Friday: 7:30 AM - 5:30 PM
Saturday: 8:00 AM - 12:00 PM
Sunday: Closed